In recent years, new energy vehicles have been the focus of discussion in the automotive field. In 2017, the Ministry of Industry and Information Technology, the National Development and Reform Commission, and the Ministry of Science and Technology jointly issued the Medium- and Long-Term Development Plan for the Automotive Industry, and proposed that by 2020, several new energy automobile companies entering the world's top ten will be cultivated, and intelligent networks Connected cars are developing synchronously with the world. By 2025, the backbone of new energy vehicle companies in the world will further increase their influence and market share, and intelligent connected cars will enter the world's leading ranks. In 2016, the "Thirteenth Five-Year Plan" national new energy vehicle special project was launched, and it was proposed to significantly increase the proportion of new energy vehicles and new energy applications, and promote green and low-carbon industries such as new energy vehicles, new energy and energy conservation and environmental protection to become pillar industries. With the rise of a new round of technological revolution, the aggravation of the global energy crisis, and environmental problems caused by automobile emissions, intelligence, networking and new energy have become an inevitable trend in the development of the global automotive industry in the future.
With the continuous emergence of various new vehicles on the market, new thermal interface materials with different heat dissipation performance, safety protection performance, and low density and lightweight performance are required to match power battery packs. During the assembly and development process of power battery packs, for different battery packs with different design structures, different types of new thermal interface materials must be assisted. It affects the weight ratio of the battery pack to the entire vehicle and the cruising range. The development of new energy vehicles plays a crucial role.
On February 12, 2018, the four ministries of the Ministry of Finance, the Ministry of Industry and Information Technology, the Ministry of Science and Technology and the Development and Reform Commission jointly issued the "Notice on Adjusting and Perfecting the Financial Subsidy Policy for the Promotion and Application of New Energy Vehicles", confirming the previous market The speculation that energy vehicle subsidies will accelerate. The policy cancels the subsidies with a mileage of less than 150 kilometers, and the subsidy amounts below 300 kilometers have all dropped sharply. The subsidy amount for high mileage has increased without decreasing; the upper limit of the additional unit battery power subsidy does not exceed 1,200 yuan / kWh; the maximum energy The density index is set at 160wh / kg, which can get 1.2 times the subsidy, and steadily move towards the national plan of 260Wh / kg in 2020.
A small number of models currently meet this new policy standard. As a leader in the innovative functional materials industry, Hongfucheng has taken the lead in developing high-strength series, low-density series, high-impedance series and other products to assist battery pack manufacturers in completing lightweight design of PACKs to achieve higher energy density and longer mileage. purpose.
Option 1: High-intensity series
Application simulation:

H150-A series (high strength, high rebound)
Thermally conductive silicone gasket H150-A series, high strength, high resilience, thermal conductivity ≥ 1.2W / mK, tensile strength ≥ 0.4Mpa, tear strength ≥ 2.5N / mm, rebound rate ≥ 75%.
H150-A series products have high compression resilience and low permanent deformation in the structural design. When the car shakes, there is a slight gap between the cold water plate and the module. H150-A can quickly rebound to fill this gap, avoiding the use process The thermal resistance change in the medium has excellent stability!
H200-S40 series (high compression, high extension)
Thermally conductive silicone gasket H200-S40 series, thermal conductivity ≥2.0 W / mK, tear strength≥1.5N / mm, compression holding force ≤15Psi @ 30%, elongation ≥200%.
H200-S40 series is a high tear strength thermal interface material. It is used in PACK bags of new energy batteries. It has good insulation and high rebound toughness, which can effectively avoid vibration and friction damage between batteries and batteries Hidden short circuit problems are the best auxiliary materials for water cooling solutions.
Option 2: Universal Series
Application simulation:

H150-S series (low thermal resistance, high toughness)
Thermal conductive silicone gasket H150-S series, thermal conductivity 1.5W / m • k, thermal resistance ≤1.5 ℃ in² / W (@ 20psi & 1mm), tensile strength ≥0.35Mpa, elongation ≥150%.
H150-S series products are applied under high tensile strength and low stress. The thickness is 0.5 ~ 4.0mm, the use temperature is -50 ~ 200 ℃, the surface is self-adhesive, it can be installed without adhesive, and it is easy to use.
H200-A series (high thermal conductivity, low oil output)
Thermal conductive silicone gasket H200-A series, thermal conductivity 2.0W / m • k, thermal resistance ≤1.2 ℃ in² / W (@ 20psi & 1mm), oil yield ≤2%
H200-A series products are a thermally conductive interface material with high thermal conductivity and low oil yield, and have excellent abrasion resistance and flame retardant properties. To solve the heat dissipation problem between the water-cooled plate and the battery pack on the car battery module, it has better cushioning and abrasion resistance, and effectively alleviates the friction problem caused by vibration.
Option 3: Low-density series
Application simulation: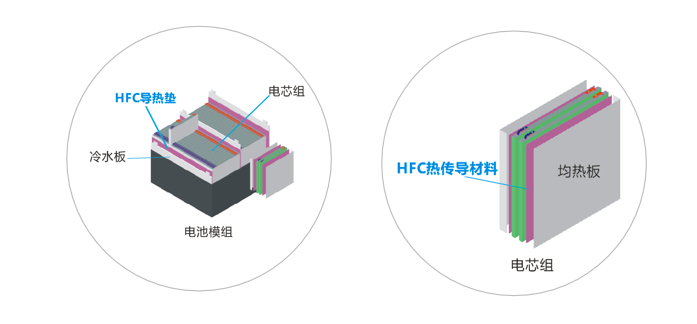 H150-LD series (low density, light weight)
H200-LD series (low density, light weight)
HFC-LD series products have low density and low oil output. Meet the needs of all battery packs. Single-sided self-adhesive technology, self-adhesive never retreats.
H150-LD has a density of ≤1.86g / cm³.
H200-LD density ≤2.05g / cm³.
Option 4: High-impedance series
Application simulation:

H300-HR series (high volume resistivity, high humidity resistance)
H300-HR series products are a thermal interface material with high insulation characteristics, low compressive stress, good compressibility, excellent fit and high humidity resistance.
Thermal conductivity is 3.0W / m · K, and volume resistivity is ≥10 Ω · cm.
Solution 5: Two-component thermal gel HTG series
Application simulation:

HTG-150D series
HTG-200D series
HTG-100DK series
(Automatic dispensing operation, small interface thermal resistance)
HTG series two-component thermally conductive gel is a thermally conductive paste that can be cured at room temperature. After curing, it exhibits a flexible rubber elastomer. It is especially suitable for the case where different components share a large radiator. With low interface thermal resistance, automatic dispensing and ultra-low compressive rebound stress.